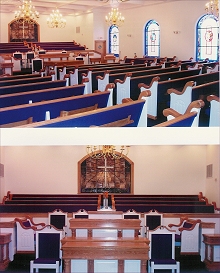 Welcome to Church Furniture International's on-line church portal. We offer a variety of quality furniture and fiberglass exterior products that represent the very best in furniture, church steeples, baptistries, crosses, and other fabricated products.
Because our quality control standards are high, we manufacture only the highest caliber furniture and fiberglass products. Our goal is to deliver high quality in a timely manner. Your satisfaction is of paramount importance. Send us your plans
Below is a short list of the church products we feature. If you don't see it here, we can likely build it. Contact us to discuss specific requirements.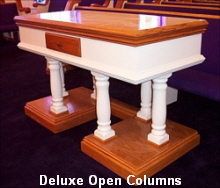 Church Furniture
Chancel Pulpit Sets - Crystal Columns
Chancel Pulpit Sets - Superior Royal Columns
Chancel Pulpit Sets - Superior Columns Elite
Chancel Pulpit Sets - Colonial White Columns
Chancel Pulpit Sets - Deluxe Open Columns
70 Series Pulpit Sets - WF102 Pews
Pews and Chairs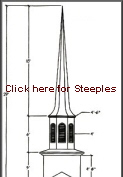 Steeples & Accessories
[Crosses] - Free Church Catalog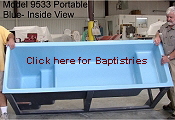 Baptistry Catalog
[See Baptistries] - Free Catalog
[Accesssories for Baptistries]
Some items are available in stock for quick
shipment or pickup. Our installation crew will be glad to install your furniture or steeple.
For Special features please call or E-mail.
For information on customer service in your area, a brochure, pricing, or to place an order, please contact us either by clicking a contact button or send E-mail to info@pews1.com .
New Crystal Column Style - click here